March 8, 2016 By Arch Kennedy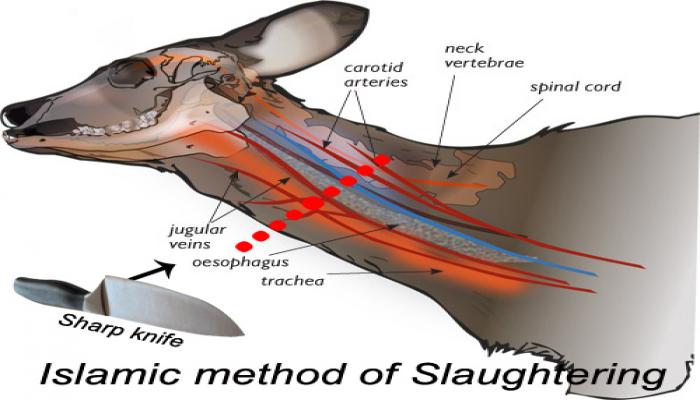 I was having a conversation with one of my good friends from Turkey today. He has an educational Facebook group on islam where high information folks have dialogue on what I consider a false religion. The discussion of halal meat came up, and I learned a little more than I cared to. After watching several videos of the procedure of slaughter, I actually started to get sick to my stomach. My whole body felt weird. I had to actually lay down for a few minutes.
Halal in islam is referencing foods that are permissible to eat if you are muslim under sharia law.  You can find Quranic verses regarding halal foods including 2:173, 5:5, and 6:118–119, 121. The slaughter is often done at "festivals" where people watch sometimes happily as the animal lays dying in the street.
Just to warn you if you are faint of heart, you might want to stop reading now. So, the procedure requires the throat of the animal should be cut in a manner to ensure that the gullet, the wind pipe and the two external jugular/ arterial veins are severed. A lot of times the knife is dull so it takes a lot of sawing to make the cut and the animal is NOT STUNNED first. The blood of the animal must be drained down to a trickle. All of this done while saying a nice little prayer as the animal writhes in pain during a VERY slow process.
What I found very interesting is that some very mainstream American businesses are now supporting this kind of inhumane behavior. And make no mistake, this slow strangulation is by no means the same process as Kosher. You will find the process similar in that the animal's throat is slit, but the Kosher means is quicker and in a calm and humane atmosphere.
So I did my research only to be shocked more that some well known American restaurants and supermarkets seem to have no problem with selling this kind of meat. Some of the ones I have found are:
Now, my next thought was: Where is PETA on this? And low and behold, I only found one small blog on their site way back in 2009. Makes me wonder if they fear for their life to call islam out for this atrocity? I think we need to educate ourselves and ask: Why do American companies allow halal meats on their store shelves and are we going to continue to bow to sharia law as it slowly creeps into our country?