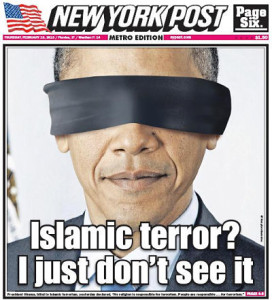 March 20, 2016 By Arch Kennedy
Who is Barack Obama? A very intriguing question indeed! We know he spent the first 17 years of his life off the American mainland. He was born in Hawaii. He lived 4 years in Indonesia. He made many trips to Pakistan, Kenya, and other parts of Africa. Obama's father was from Kenya and muslim as was his step father, and his mother was white.
Obama supposedly did not grow up in a religious household. He claims to have become a practicing Christian in his adult life and yet no other President in modern history has had his faith questioned more. Recent polls show that 29 percent of Americans and nearly 45 percent of Republicans say he is a Muslim. So why is this so?
I would answer that it is his actions AND words. I started doing my research and found his speeches constantly glorifying islam and it's "contributions" to the world. Uh, contributions, Mr. President? Every country where islam becomes the dominant religion, destroys every other culture and religion there. Afghanistan used to be a Buddhist country by the way. You go into Saudi Arabia and you will not find a Christian church and will get in trouble for having a Bible in your hand.
As I continued to watch Obama speeches, I noticed on many accounts he says the United States is "no longer a Christian nation". Really? And then there was that "bowing" incident to the muslim king but somehow he could not find it in his heart to do so to the British queen.  He has his priorities!
The final nail in the coffin came just this past week when John Kerry finally announced that ISIS was committing genocide of Christians in Iraq and Syria. I thought to myself…the Obama administration is just now admitting this? According the latest data, 7000 Christians were killed for their faith in 2015 alone – almost twice as many the year prior. In addition, 2400 churches were attacked, which was, again, double the number of 2014. A little late to the party, don't you think, Mr. President?
Open Doors is a human rights organization that has been documenting the persecution of Christians since 1955 and they state that 2015 was "worst year in modern history for Christian persecution". We have Obama foreign policy to thank for that. Obama has said "We are not at war with Islam". Obama then adds "We are at war with people who have perverted Islam." Well, sir, in 2015 alone there were 2858 Islamic attacks in 53 countries, in which 27588 people were killed. That is a lot of people that have "perverted" islam!
So, for me, I could not care less if Obama is a muslim or not. The point is he is definitely an "islam sympathizer", which in my book is just as bad. We are in perilous times with ISIS and many other terrorist organizations that are already in the U.S. plotting their next attack, and this President's apathy is astounding.
Obama Video Below: In his own words, he seems to support my theory. What do you think?