May 20, 2016 By Arch Kennedy
You have heard me time and again use the terms Sharia and Kafir.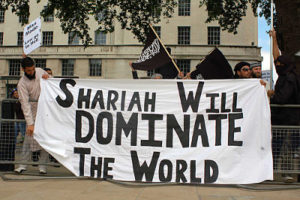 TheReligionOfPeace.com defines it as this, and I think this sums it up nicely:
"Sharia is Islamic Law.  It is the religious legal system that governs the political, social and moral duties of faithful Muslims.  It is what is meant by 'God's Law.' The Sharia was derived from the Sunnah – the way of life of Muhammad as recorded in the Hadith (traditions).  It pulls various Quran verses and historical narrations into an organized body of rules."
A Kafir is a "non-believer" and is a very derogatory term used in islam.
Dr. Bill Warner has been a great influencer of mine on the topic of Political Islam and I wanted to share his explanation of these terms and how we are already being subjected to Sharia Law here in the U.S. Time to wake up, America!
May 5, 2016 By Dr. Bill Warner
"Sharia law is the most important part of Islamic doctrine. Sharia is Islam; Islam is Sharia. Sharia includes law, but it also includes how to raise a family, theology, philosophy and every aspect of daily living. Sharia law includes pronouncements for both Muslims and non-Muslims (Kafirs). Sharia is a manual for a civilization.
Sharia does not allow free speech. It is forbidden to make a joke about Mohammed. Blasphemy is forbidden. The US is following Sharia when it allows the UN to determine that Muslim refugees come to America and not Christians.
We have Sharia compliant textbooks now in Tennessee. We hesitate to anger Muslims or criticize Islam. In Europe Islamic rape is accepted behavior.
Sharia says that our Constitution is manmade and a product of ignorance. Sharia is Allah's law and must replace all other governments. Countries that adhere to all of Sharia are Saudi Arabia, Afghanistan and Yemen. Most Islamic nations do not apply all of the Sharia, but it is there when more stringent laws are wanted.
All Kafirs are involved in the Sharia; it is just a matter of how much. We should recognize it and resist its expansion in our civilization."