June 28, 2016 By Arch Kennedy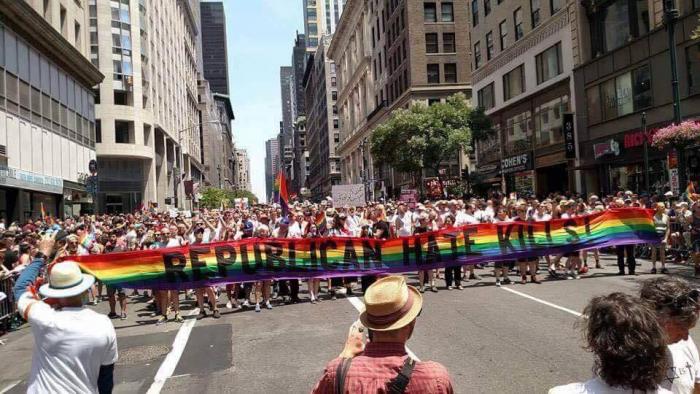 I have to say, I was never more ashamed of the gays than this past weekend. The hate of the gay population is so misguided it isn't even funny. Gay Pride New York City was nothing more than a community coming together to bash Republicans for an event that was carried out by an islamic jihadist. The rainbow flag flew bright with the words, "Republican Hate Kills". I have searched and searched, and I can't, for the life of me, find one death of a gay person at the hands of a Republican, and yet, 49 lives are gone now at the hands of islamic terrorism.
You see, islam goes way beyond merely disapproving of homosexuality. Sharia law teaches that it is a vile act that is punishable by death. And this is exactly what Omar Mateen and other jihadist feel as well. Here are some words of the Sunnah, which are the instructions and biography of Muhammad. Sharia law is derived from the Sunnah – the way of life of Muhammad.
Thereligionofpeace.com does a great job of rounding up the verses on homosexuality and I have displayed a few below:
Abu Dawud (4462) "Whoever you find doing the action of the people of Loot, execute the one who does it and the one to whom it is done.".
Abu Dawud (4448) – "If a man who is not married is seized committing sodomy, he will be stoned to death."
al-Tirmidhi, Sunan 1:152 – Muhammad said "Whoever is found conducting himself in the manner of the people of Lot, kill the doer and the receiver."
Reliance of the Traveller, p17.2 – "May Allah curse him who does what Lot's people did." This is also repeated in three other places.
Never mind the fact that we have 911 recordings of Mateen pledging allegiance to al-Baghdadi. The Committee on Homeland Security and Governmental Affairs staff obtained Facebook posts from Mateen stating: "America and Russia stop bombing the Islamic state..I pledge my alliance to Abu Bakr al Baghdadi..may Allah accept me." After that, posting this: "The real muslims will never accept the filthy ways of the west" and "You kill innocent women and children by doing us airstrikes..now taste the Islamic state vengeance."
I am pleading for the gay community to put their political ideology aside and look at reality and facts. Islam wants us dead. The sooner you accept this, the sooner we can fight the evil that exists within the doctrine of this political/religious system. Hillary Clinton is not going to keep us safe from the atrocities of islamic terrorism. How many more will have to die before you realize this?