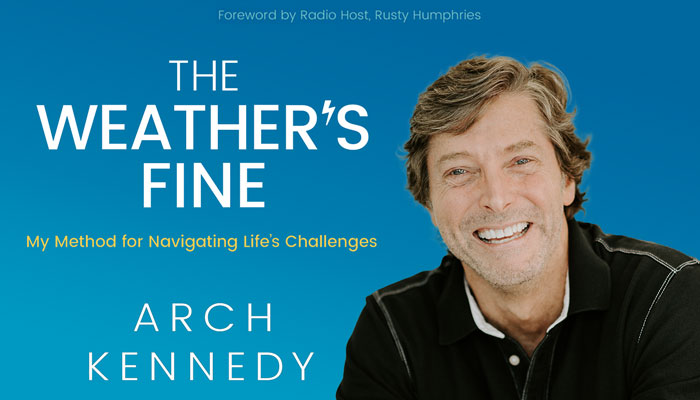 About the Book
Life's challenges can seem lonely, insurmountable, and full of despair, and learning from the challenges and mistakes of others is one of the best ways to successfully emerge from them.
Author and speaker, Arch Kennedy, has had his proverbial droughts, floods, hurricanes, and earthquakes throughout his life: 
Riding his rollercoaster career as a television meteorologist 

Caring for his mother who had a debilitating disease

Battling the addiction of alcoholism

Discovering and accepting his sexuality as a gay man

Emerging from political apathy into activism

Finding his way back to his spiritual faith
More than self-help techniques, the map that he used to navigate through all of these experiences is a proven set of principles that has strengthened his resilience and helps guide his daily life. His dramatic stories reveal the power of God's unfailing love and the resilience of the human spirit, and he shares them with you.
Praise for The Weather's Fine
"In The Weather's Fine, Arch has declared the truth of his life's work, and more specifically a helpful method for overcoming many of life's challenges. With honest transparency and vulnerability, he shares some gripping personal stories that are difficult to comprehend.
"If you're going through a battle right now, I encourage you to get this book and learn from his experiences. You'll be glad you did."
– Peter Schweizer, American political consultant and author of the best-selling book, Red-Handed: How American Elites Get Rich Helping China Win
"Families are complicated. Rarely do we get to see inside them. Arch Kennedy takes the reader inside his world. We see the highs and lows of the life of a man not afraid to allow others to learn from his experiences—a truly profound and sensitive book."
– Carol Pocklington, Behavioral Analyst and Author
"I met Arch several years ago when he was in a very dark place. Watching him change his life by incorporating the principles in this book has given me such joy. He is a different man today."
– Amber Goldberg, Atlanta Sales Leader
"Arch's book is heartbreaking, inspirational, and riveting! His openness about his own struggles and challenges gives us valuable lessons that we can all use to be better people."
– Ray Bell, Political Activist, Financial Services Executive – The Wealth Consulting Group