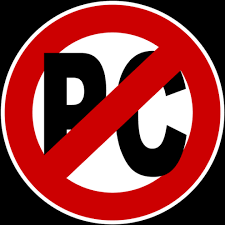 March 12, 2016 By Arch Kennedy
Politically Incorrect. That's me! And this is what I choose to be from now on. I have had it with the PC crap. The cancellation of the Chicago Trump rally has brought me to the brink of insanity! Ok, I got that out and feel better now. Seriously, does anyone not see what is happening? It is so obvious to me. Political correctness has been growing for years now and Americans are finally fed up.
I grew up in a time when you had to take responsibility for your actions. If you did something bad in school, the teacher got the paddle and took care of it and you never did it again. Today, teachers are scared to even look at a student wrong without fear of being sued! Police officers are living in fear of the same thing, which is a true threat to everyone's security.
And now, colleges need "safe spaces"! Are you kidding me??? Sticks and stones, I say. The world has gone completely mad and the country is making a statement as Donald Trump continues to rise. Folks, this is what bred him, make no mistake.
Donald Trump knows exactly what he is doing. He knows that most of us are as fed up as he is, and he has no one to answer to. He has made all of his money and beholden to no one and some people can't stand it, especially the D.C. Establishment. It is so obvious what is happening in our country. It is a movement for sure and it goes way beyond one man.
I truly believe political correctness is one of the biggest threats to our freedom and security that we will ever know in our lifetime. Illegal immigration and islamic terrorism are BIG issues for many of Americans from the polls I see out there. If we cave in to this, we are doomed. The time has come to put political correctness to bed and Trump seems to be the one who is doing it. This is not about me endorsing Donald Trump, but he was born out of a movement of the American people who are saying we aren't going to take the status quo anymore. It is time for a big change and to get back to some of the more important values our country stood for in the very beginning….freedom. So, whether he wins or not, hopefully he has been a tool to bring common sense back.
I have to say, I have not made up my mind on who I will endorse for President, but the more people try to shut me up for my 1st amendment right, the more I am going to be in Trump's corner.