April 27, 2016 By Arch Kennedy
The great thing about Republicans is that they are individual thinkers. The bad thing about Republicans is that they are individual thinkers. The party has imploded already, and it is for this very reason. Trump is merely a symptom of the disease. And the very reason I know I am right is because many Republicans are already rolling their eyes right now at my statement.
I, myself, have really had no opinion at al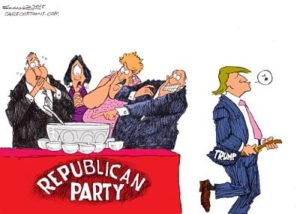 l on Donald Trump, and every time I have mentioned anything about him, I can hear the gasps through the computer as if I am some "secret" supporter of his, which is far from the truth. But I am certainly going to voice good things that I do see about him. And there is where the lunacy begins. I have never seen such in 46 years of life.
Where does this passion for Trump, whether good or bad, come from? I think from several places. The most important is "the status of our country". The second, I believe, comes from a belief, or lack of belief, that the Republican Establishment has taken control of our country and become a tyrannical regime that does not listen to the people.
So now, we are left with two groups of people in the Republican party:
Those that care about the Republican in name only.
Those that have deep conservative principles who are disgusted with the status quo.
I am sure I have just lost a few readers at this point. But, bear with me here. Are we as conservatives so programmed to just believe what the Establishment tells us? When you look at Trump, you see a person not beholden to anyone. So, if you are a supporter, you are looking strictly at what he is saying, and if you are conservative and believe him, he is your man. If you are a Trump hater, and more trusting of the Establishment, then you are skeptical and say he is a liar just like Hillary because he once had some liberal views in the past.
Here is the solution to it all, and I could not care less who is for and who is against Donald Trump. My plea to conservatives, is for us to get back to conservative principles and figure out what "most"of us agree with, as a platform and go from there. Individual thinking is good, but we could learn a little bit from the Democrats on "the collective" and banding together, but on conservative principles. We already have to start over. The current party is gone. But maybe that is a good thing.