August 18 2016 By Arch Kennedy
I must say, in the beginning I was a Rubio/Carly guy. But, during Primary season, as Trump beat the pants off of of 16 other candidates, he grew on me. In The Georgia Voice today, I explain why I support him today.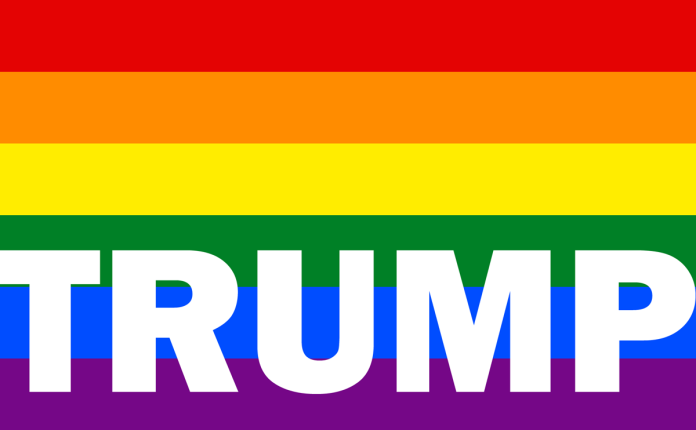 August 18,2016 By Patrick Saunders
LGBT Republicans are used to being asked by others about how, given the party's track record on LGBT issues, they can support the GOP. Many political pundits expected more of those in the LGBT community to embrace Republican candidates after marriage equality became the law of the land, but then came the backlash.
The GOP doubled down following last June's U.S. Supreme Court decision and was responsible for filing over 100 anti-LGBT so-called "religious freedom" bills across the country, including the federal First Amendment Defense Act, which is still under consideration. So the questions for LGBT Republicans continue, and the rise of Donald Trump and his controversial behavior over the last year has led to a new series of questions.
Everybody knows the Republican candidate's gaffes. Mocking the disabled. Inferring that a female journalist who asked him tough questions during a debate was menstruating. This past month has been particularly bruising for Trump, with him calling President Obama the "founder of ISIS," implying that "Second Amendment people" could assassinate Hillary Clinton, and ridiculing the parents of a Muslim-American Army captain killed in Iraq. Subsequent national polls show Trump sliding further and further away from Hillary Clinton, and the Democratic Party is starting to pump money into Georgia now that it's considered a toss-up state.
So we reached out LGBT Republicans to find out why they support Donald Trump and the fallout they've experienced as a result.
Immigration reform, terrorism views drew Atlanta man
Arch Kennedy is a former meteorologist who previously had stints at several networks and affiliates in Atlanta and around the South. Now he's back in Atlanta, and for the past year has been building a following as a political commentator. The 46-year-old says he was always planning on supporting the Republican nominee for president and favored Sen. Marco Rubio and Carly Fiorina early on in the primary, while having reservations about Trump.
"As I watched him defeat all those other candidates, I realized there was a movement going on. It wasn't even about Republicans or Democrats anymore—it was about it bringing it back to the people. He's a populist," Kennedy told Georgia Voice.
For Kennedy, it came down to who he thought was better on limited government, the economy, terrorism and securing the border.
"When it comes to immigration reform, you have to first stop the bleeding and I believe in what he says on securing the border, and Hillary Clinton is not really pushing that," he says. "I believe very much so that she's an open borders girl."
Of Trump's temperament and any concern about how that could translate to the Oval Office, Kennedy says he agrees that the GOP nominee needs to be "more presidential" and that he "needs to tone it down," but—despite Trump's actions over the last month—that he's seen improvement in that area and thinks he'll continue to calm down.
Kennedy says two groups have been the most vocal in their opposition to his support of Trump—establishment Republicans and LGBT Democrats. He also gets asked about the party's platform, which was the most anti-LGBT platform in years.
"If Trump's in office, those platform issues are not going to come to pass. I am more concerned with the economy, Islamic terrorism and things that are going to affect all Americans. We have gay marriage, it's time to move forward is the way I feel."
'Honesty seems to hurt a lot of people'
19-year-old Donald Trump supporter Avery Anderson decided to do something a little risky when he showed up for the first day of classes this fall at the University of West Georgia—he wore his Trump shirt and hat. He got a couple of looks here and there, with a dash of commentary on the side.
"One lady said she was going to name her daughter Hillary," Anderson tells Georgia Voice.
But he says the backlash that day and overall hasn't been as bad for him, which might have something to do with the county being solid red, with nearly 70 percent of Carroll County voters opting for Mitt Romney over President Obama in the 2012 presidential election.
What's surprising though is that, drawn by the talk of free college and free healthcare, Anderson had previously supported Bernie Sanders for president and labeled himself a "hardcore Democrat." Last year he had what he calls an "epiphany" and began to ask himself if Sanders was the best option for him. After reading up on the candidates and getting a look at Donald Trump's tax plan, he formally switched sides to the business mogul.
"I became a Trump supporter because I feel like I can identify with him," says Anderson, who was also drawn to Trump's views on immigration and the military. "I felt like if he could sit down with me, we can carry out a very pleasant conversation."
He later got involved with the Republican Party and ended up becoming an alternate delegate at last month's GOP convention.
Anderson is quick to defend the Republican nominee against claims that he's sexist, saying, "He's probably mean to the women who go after him and it's kind of a respect thing—treat those how you wish to be treated." And of the racism claims, he says, "They'll bring up the immigration issue and I'll tell them, 'No that's not a racist issue, that's a legal issue.' It seems like everything that they try to go after, I feel like they're going after him for being honest, and honesty seems to hurt a lot of people."
Overall, he says he wishes people weren't afraid to show their support for the candidate.
"I wish people would stop being afraid and get on my level, because I'm happy to support him. I'm happy to tell people that I'm an openly gay Christian Republican who supports Donald Trump because he's willing to defend me and I feel like he's the right guy for the right job."