NOVEMBER 16, 2017 BY PAUL BUDLINE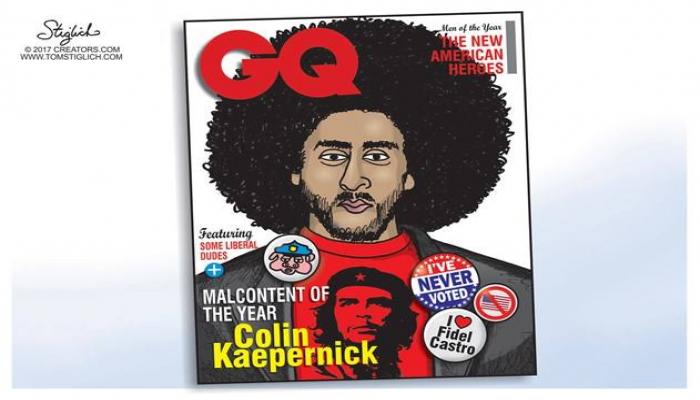 Okay, we're not talking about ammunition or assault weapons.
Those "high-capacity magazines" are the massive, phonebook-sized glossy publications like Vogue and Glamour and GQ.
Their advertisers promote a dreamy lifestyle where beautiful people wear diamond watches, drive luxury cars, and purchase $2,000 suits. But their editorial pages run the entire gamut from far left to farther left.
As just one example in the news, there is Glamour, which is crammed with high-end ads presumably aimed at extremely wealthy women. This week the magazine held its annual "Women of the Year" awards, where the honorees included Maxine Waters, the new heroine of the far left and self-proclaimed champion of the poor.
When "Auntie Maxine" took the stage in Brooklyn Monday, she launched into her standard tirade: "Impeach 45! Impeach 45!" Most of the crowd ate it up and chanted along, but you have to wonder how any Trump voters in the audience must have felt. Surely there were at least one or two.
The very glamorous Glamour crowd was also treated to video appearances by Hillary Clinton and Michelle Obama, as well as a pep talk from Planned Parenthood boss Cecile Richards. The simple message is that if you are a traditional woman or opposed to abortion, Glamour sneers at you and doesn't even consider you a genuine female.
Then there is Vogue, perhaps the most amusing of the bunch. Long-time editor Anna Wintour, queen of the fashion world, didn't merely endorse Hillary Clinton for president. She used her power and her position to raise money for the Clinton campaign and demanded that all her editors help register voters. Not those deplorable Trump voters, of course.
Just after the election, Vogue ran a morose piece called "How to Light a Spark on This Very Dark Day." But according to exit polls, it wasn't a dark day at all for about half of all married women in America. They had voted for Donald Trump, but Wintour was apparently quite content to alienate many of her prospective readers.
Perhaps Vogue and Anna Wintour are still trying to make amends for the single most embarrassing article in the history of publishing. In 2011, Vogue ran a glowing piece about Syria's Assad family. That was just as Bashar al-Assad was ramping up his mass slaughter. The article, called "A Rose in the Desert," has been erased from Vogue's memory and website, but can still be easily found.
Let's not forget the men. GQ, the trendy magazine formerly known as Gentlemen's Quarterly, just honored Colin Kaepernick as its "Citizen of the Year." The washed-up quarterback's fashion style leans toward tee-shirts with Fidel Castro photos and socks that depict police officers as pigs. Nice pick, GQ. Wasn't Michael Moore available?
GQ's other "men of the year" include Stephen Colbert, who has made a very nice living spewing anti-Trump vulgarities, and basketball star Kevin Durant, who proclaimed he would never visit the Trump White House. Anyone notice a trend?
The list of lefty magazines is a long one, including Elle, Cosmopolitan, and even Seventeen, which published an article with this title: "Watch This 13-Year-Old Totally Slam Sexist Donald Trump."
But at least that list is slightly shorter now that the especially grotesque Teen Vogue has pulled the plug on its print edition. That unlamented rag, in addition to bashing President Trump and telling young girls how to clear up their pesky acne, recently ran an instructional guide to a particular sexual activity.
Of course, we shouldn't overlook Rolling Stone magazine, that fount of great journalism that ran wild with the University of Virginia rape hoax. The once-popular mag had Barack Obama on its cover ten times, the same number of covers as Madonna and Jimi Hendrix.
President Obama was perpetually fawned over by the magazine's writers, editors, and its founder Jann Wenner, who recently put the left-wing publication up for sale.
This brings to mind the song performed by the strangely-named band Dr. Hook & the Medicine Show. "The Cover of Rolling Stone" was a humorous tune about a group's burning desire to adorn the cover of what was then the bible of rock music.
Well, Dr. Hook, wherever you may be, we have some advice. If you still want to get your picture on the cover of Rolling Stone, adhere to two simple rules that are mandatory for anyone wishing to grace the cover of Vogue, Glamour, GQ or just about any other glossy magazine.
Rule #1: Lean far to the left politically. Rule #2: Never, ever forget Rule #1.