JANUARY 11, 2018 BY PAUL BUDLINE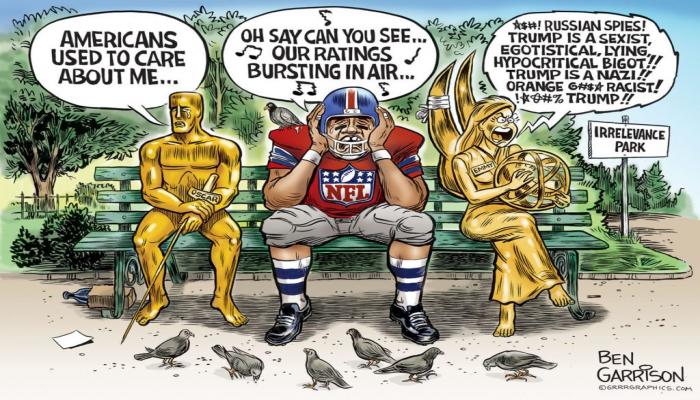 Remember Queen Elizabeth's 'Annus Horribilis' speech? It was the end of 1992, a 'horrible year' that included plenty of royal scandals.
Well, 2017 was pretty horribilis for a couple of American institutions – the National Football League and the movie business. And both were partly done in by the scourge of liberalism.
The National Football League's woes began the year before when it chose to look the other way as Colin Kaepernick took a knee during the National Anthem. What started with a single player snowballed into a mass movement, especially after President Trump entered the fray.
At the end of the year (as opposed to "at the end of the day") the league lost about 10% of its television viewers in the just-completed season, a slide that continued into last weekend's first round of the playoffs.
The league has tried mightily to blame other factors, but the in-your-face disrespect of the flag and National Anthem turned millions of Americans away from pro football. It's not the sport itself, as last Monday's college football title game attracted 13% more viewers than the year before.
The raw numbers: Monday night NFL football games on ESPN averaged about 11-million viewers this season. The Alabama-Georgia college game, also on ESPN on a Monday night, had more than 28-million. So let's not blame cord-cutting or head injuries or anything else.
Of course, the NFL remains a rich and powerful organization. Rich enough to give Commissioner Roger Goodell, a disaster by most measures, a new contract that may be worth $40-million a year. Heckuva job, Roger. And the sport is rich enough to pay Jon Gruden $100-million to coach the Oakland Raiders for the next ten years.
The National Football League actually has something very much in common with the Democratic Party. They can both come back from their recent setbacks, but both had better stop alienating average Americans whose support they both need so badly.
Then there's Hollywood and the movie business. Fewer Americans went to movie theaters in 2017 than at any time in more than two decades.
Sure, the industry was hit by the Harvey Weinstein scandal and others that followed in its wake, but the decline started long before that.
Franchises like "Star Wars" continue to do well, but serious dramas have taken a huge hit. Part of it is that producers and directors and writers insist on ridiculing America and portraying this nation as a downright terrible place.
George Clooney decided to direct an abomination called "Suburbicon," which mocked white America and the suburbs. The film brought in a whopping $5.8-million at the domestic box office, enough to cover the catering budget on some movies.
Al Gore's "An Inconvenient Sequel" was another bomb as audiences never warmed to another lecture by the portly and wealthy environmentalist-in-chief. Other liberal offerings also sank big time in '17.
Will the movie industry change? Possibly, but it's far more likely that filmmakers will continue to poke their fingers in the eye of middle America. It might not make for boffo box office, but it gets you invited to swell parties.
Speaking of Hollywood and swell parties, last week's Golden Globes awards, at which left-wing celebrities lavish each other with honors and praise, lost a ton of viewers from the year before. Americans are simply growing weary of being slapped around by elites who look down on them and their lifestyles.
Overall, 2017 was a pretty rotten year for institutions that insist on diminishing America and its traditions. And that made it a pretty good year for the rest of us.