JANUARY 14, 2019 BY RAY BELL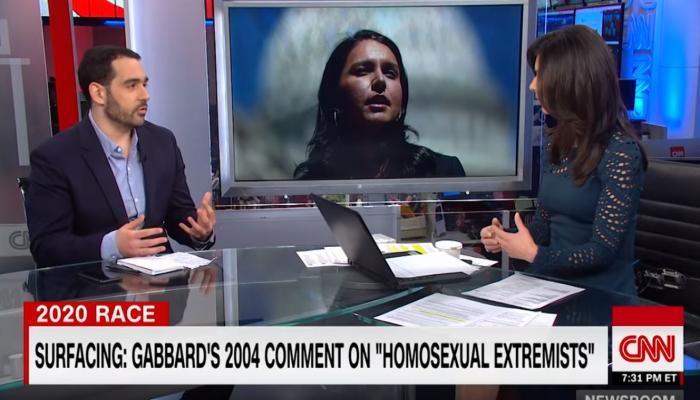 There has never been a candidate for President with more of an anti-LGBTQ history than Tulsi Gabbard. In 2004 she worked to prevent civil unions in HI and spoke out against the Massachusetts Supreme Court decision legalizing gay marriage.
She said, "As Democrats, we should be representing the views of the people, not a small number of homosexual extremists."
She has over the years continued to call out homosexual extremists. Her father ran and she worked the Alliance for Traditional Marriage & Values. This group supports gay conversion therapy.
Her six years in Congress has made her evolve on the issue and she is committed to LGBTQ equality. Zeke Stokes from GLAAD acknowledges her LGBTQ animus as some of the worst, but all fine now. She has evolved and is a good example of someone evolving.
Imagine if she was a Republican! All hell would break loose right now. The past two years the Human Rights Campaign has taken every policy or decision by the Trump Administration and twisted it into a pretzel to create LGBTQ animus as the motivation for the policy.
Mike Pence in 2000 made comments about "changing sexual behavior ". Those comments were about abstinence. He was attacked then for not supporting birth control. Those comments now mean support of gay conversion therapy.
Where is The Human Rights Campaign now? They are excited about the House banning non-existent LGBTQ discrimination and the return of the Equality act! They never mention the times the Democrats controlled Congress and the White House and never passed it.
The narrative that the Democrat Party is the pro-LGBTQ party and the Republicans hate all LGBTQ people is one of the biggest frauds ever perpetrated on the American people. It is all about scaring people into voting for socialism! Nothing else!