JANUARY 22, 2019 BY ARCH KENNEDY
I can already see the hate mail coming in from the Democrat gay community when I give my opinion on this one. Trump has asked for a temporary ban on trans soldiers in the military and the Supreme court announced today that it will allow it. Great!
Here is the deal. We have at least around 1.3 million service members in the Armed Forces. It is estimated around 3 thousand are transgender. So that is .002 of ONE PERCENT of soldiers identifying as transgender. We already know clinically that transgender people suffer from gender dysphoria which is severe anxiety when one "identifies" as the opposite of their biological sex. There are also numerous reports of severe depression and suicide with transgender people.
So, needless to say, there are A LOT of psychological issues going on with transgender people. Should not our Department of Defense be allowed about looking into the possibility that this policy of allowing transgender people to serve alongside other soldiers "risks undermining readiness, disrupting unit cohesion, and weakening military effectiveness and lethality"? Or to put it another way, should not our military leaders be the ones who decide what is best for their troops to protect our country?
Listen, I feel for what they go through. It must be a horrible thing to feel "trapped" in the wrong body, but we all go through our own battles in life and using our military as a social experiment is selfish and wrong. Men and women with heart problems and other severe physical problems are not allowed to serve either.
Sorry if this "hurts feelings" but sometimes the truth does hurt. It doesn't mean we don't have to face reality sometimes. Life is not always fair.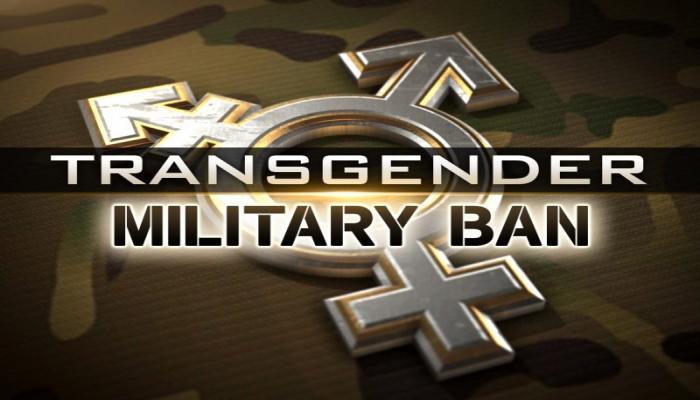 "Supreme Court Allows Trump to Temporarily Enforce Trans Soldiers Ban", by Kevin Daily, Jan. 22, 2019:
The Supreme Court announced Tuesday that it will allow President Donald Trump to temporarily enforce restrictions on transgender individuals serving in the military.
As is typical of orders of this nature, the Court gave no reason for its decision, though Justices Ruth Bader Ginsburg, Stephen Breyer, Sonia Sotomayor, and Elena Kagan noted their dissent.
"We are pleased the Supreme Court granted stays in these cases, clearing the way for the policy to go into effect while litigation continues," said Kerri Kupec, a Department of Justice spokeswoman. "The Department of Defense has the authority to create and implement personnel policies it has determined are necessary to best defend our nation."
The Trump administration first petitioned the Supreme Court to decide directly on the legality of the trans-soldiers ban, after federal trial judges in California, Washington, D.C., and Washington state issued orders prohibiting its enforcement. The plaintiffs in those lawsuits argue the policy violates a range of constitutional rights including the First Amendment, equal protection, and due process.
The government said the Court's intervention was necessary because the lower court decisions "require the military to maintain a policy that, in its own professional judgment, risks undermining readiness, disrupting unit cohesion, and weakening military effectiveness and lethality."
Subsequent to that request, the Justice Department filed a second petition proposing an alternative: in the event the Court denied the first request, the justices could allow enforcement of the ban while litigation continues in the lower courts. The Court granted that request Tuesday.
The case will now return to the 9th U.S. Circuit Court of Appeals for further proceedings. Should the administration lose before the 9th Circuit, they can return to the Supreme Court for a definitive ruling on the legality of its restrictions on transgender soldiers. (RELATED: Judiciary Committee Democrat Floats Perjury Probe Of Brett Kavanaugh)
Tuesday's decision is a strong indicator that the government would prevail if the high court has to issue a final ruling in the dispute.
Another district court order from Maryland that was not before the Court prohibits the government from enforcing its restrictions on trans military personnel. Though that order remains in effect for the moment, it will likely terminate in the near future as a result of Tuesday's decision.
The president abruptly announced on Twitter in July 2017 that the military would not permit trans personnel to serve. Thereafter, former Defense Secretary James Mattis convened a panel of military experts to conduct an independent review of the subject. Their findings served as the basis of Mattis' February 2018 memo which implemented Trump's request.
That memo provides that individuals with a history of gender dysphoria — a clinical term referring to anxiety triggered by the conflict between one's biological sex and the gender with which they identify — may enlist provided they are willing to serve in their biological sex and have not suffered gender dysphoria for a continuous three-year period prior to recruitment. Active personnel who are diagnosed with gender dysphoria may continue to serve provided they do so in their biological sex.
Estimates vary as to the number of transgender individuals in the military: some studies place the figure between 1,000 and 6,000, while others suggest there are as many as 8,000.
OutServe-SLDN, a non-profit that provides legal services to LGBT soldiers, promised to continue fighting the administration's restrictions.
"To our transgender siblings-in-arms, veterans, and hopeful recruits: This battle is not yet over. You will not be left behind or forgotten," OutServe said in a tweet following Tuesday morning's decision.