JULY 1, 2019 BY RAY BELL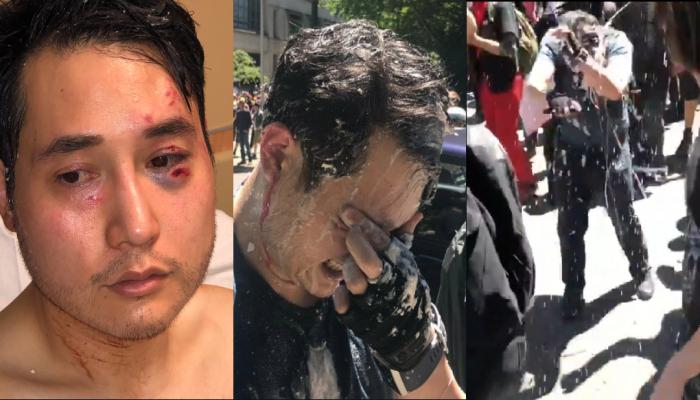 It is a little over a year ago when Maxine Waters told a crowd at the Wilshire Federal Building. "Let's make sure we show up wherever we have to show up. And if you see anybody from that Cabinet in a restaurant, in a department store, at a gasoline station, you get out and you create a crowd. And you push back on them. And you tell them they're not welcome anymore, anywhere. We've got to get the children connected to their parents," Waters said at the Wilshire Federal Building,
Since then the incidents of harassment and violence toward Trump supporters are now in the hundreds. Most of these go unnoticed by the media. I personally know three people who have been hit, screamed at, and had a drink thrown at them during the past year. I have received threats of physical violence and death.
A year later Eric Trump is spit on in a bar in Chicago. Andy Ngo is attacked in Portland Oregon that has been a hotbed of this behavior. The Portland Mayor is intimidated by these people and has done nothing to curb the violence.
The mainstream media appears to be justifying this behavior. Stephanie Wilkinson the owner of the Red Hen Restaurant that was the scene of the most infamous incident of harassment involving Sarah Sanders wrote an op-ed in the Washington Post. Wilkinson in a roundabout way justified Eric Trump being spit on and suggested Trump supporters should eat at home.
Kate Cronin – Furman in a NY Times op-ed justified the doxing of Trump administration officials, because of the immigration detention centers that she described as concentration camps.
Mary Ann Marsh this morning on Fox News wouldn't condemn this behavior. When pressed by Sandra Smith about condemning this behavior Marsh finally did, but with the subtle link that Donald Trump is to blame.
The left hates free speech and is using tactics to intimidate anyone who disagrees with them. Their policies and agenda lose in the arena of ideas. They have to scare people into accepting socialism and threaten anyone who dissents.
Our constitution limits what government can do. They want a constitution that states what the government can do under the guise of equality, diversity, inclusion, and protections. These two statements sound the same except two words: limits and state. These two words are the difference between liberty and Tyranny!
Our constitution is an obstacle for the left and getting rid of it is job one for them. That is where the anger and hate come from!
https://www.washingtonexaminer.com/opinion/columnists/byron-york-anti-trump-fever-takes-threatening-turn