NOVEMBER 1, 2019, BY RAY BELL
Mauro Garza who owns a gay club in San Antonio, TX is running for Congress as a Republican who supports Trump. Predictably, the LGBT community is outraged and calling him a traitor.
LGBT community centers, pride organizations, and other LGBT organizations' only purpose is to elect Democrats. The left frames every issue as a civil rights issue and then uses shame tactics against their opponents. LGBT organizations execute those strategies on behalf of the Democratic Party in violation of their 503c status.
Mr. Garza, myself and the rest of us Gay Conservative Deplorable's destroy the LGBT left's narrative and expose them for the political hacks that they are! Mr. Garza is a traitor for thinking for himself. The LGBT left is all about diversity and inclusion except for thought.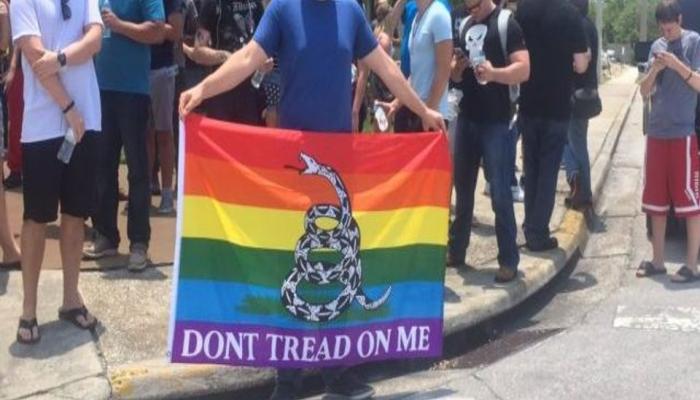 "'Traitor': Stonewall Democrats Slam Pro-Trump Gay Congressional Candidate", By Brad Polumbo, October 30, 2019:
Mauro Garza is a gay man running for Congress as a pro-Trump Republican. In the eyes of some liberal activists, that just about makes him the scum of the Earth.
At least, that's the impression you'd get from the letter Garza just received from the left-wing group Stonewall Democrats, which was provided exclusively to the Washington Examiner for review. The letter blasts Garza as a "traitor" who, as a typical Trump Republican, supports "hateful" and "un-American" policies. They even brought up Garza's son in one paragraph, in a bizarre attempt to browbeat the candidate into submission.
Here's an excerpt that sums up the sentiment of the letter as a whole:
With your business facing economic sanctions and your political viability bleak — take this opportunity to keep what good name you have left and denounce the racism, xenophobia, misogyny, and homophobia championed by your Republican peers… We demand that you disavow the President and Republican Party's discriminatory policies and platform toward our LGBT neighbors and their families immediately.
These left-wing activists are sending a very clear message: Don't you dare think for yourself, or we'll come for your business and political career. You can't support a politician or policies that the left-wing, extremely illiberal gay establishment doesn't approve of, or else you'll pay the price. This is a stunning display of intolerance. If anything, it's the exact opposite of what true progress and gay equality looks like.
In an ideal world, lesbian and gay people would feel completely free to be individuals, finding enough support in either party for their dignity and rights that they get to choose between policy platforms just like everyone else. If these activists cared about progress, not their own political activism and fundraising, they'd be happy to see more gay Republicans running for office. They'd also feel comfortable enough with Trump's views on gay issues to support him.
With a few noteworthy exceptions, the activist narrative about the Trump administration being some "anti-LGBTQ" nightmare is laughably overwrought. While the president's record can be fairly characterized as mixed, there's no doubt he's the most pro-gay Republican president in history, and more openly supportive of gay rights than former President Obama was when he was first elected in 2008.
So there's nothing to the argument that Garza is an anti-gay traitor for voting Republican. In fact, the candidate is attempting to bring even more progress to the party. He has an entire issues page on his website dedicated to "LGBT+ Equality," Of course, though, none of this will ever satisfy the left-wing outrage mobs and activists who need to drum up more controversy to perpetuate their vestigial nonprofits and organizations.
Wild liberal backlash is nothing new for Garza. When his campaign was first announced, local San Antonio gay and transgender activists denounced Garza as "working hand-in-hand with the anti-LGBTQ Republican party to oppose civil rights," and decried his campaign as part of an "anti-LGBTQIA+ movement." One group, Protest the Peg, has led a boycott against Garza's bar, a gay bar of national renown.
That's right: Supposedly pro-gay activists are accusing a gay man of being an "anti-LGBTQIA" bigot and trying to destroy his business because he disagrees with them politically and voted for a candidate they don't like.
You don't have to support Garza's candidacy, the GOP's agenda, or the president to acknowledge that the left-wing campaign against Garza is an insane display of intolerance that's fundamentally not "progressive" at all.