JUNE 8, 2020 BY RAY BELL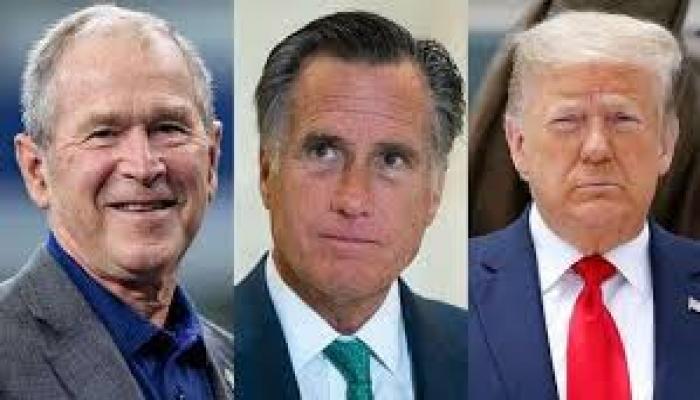 The New York Times Story that Bush and Romney plus several other high profile Republicans are not supporting Trump, is not a news story. We have known this for a long time. The purpose of this story is to reinforce that the country under Trump is out of control while using the coronavirus shutdown and the race riots for their propaganda.
Did anyone think that Mitt Romney, Cindy McCain, and Colin Powell were going to vote to support Trump? Romney voted to convict and remove President Trump. Cindy McCain has been actively supporting democrats in AZ and the McCain loyalists are the never Trump "movement". Colin Powell voted and supported Obama. This part of the story is nothing new.
John Boehner, Paul Ryan, Jeb Bush, and former President George W. Bush are mentioned as not going to support President Trump's re-election. The source is unnamed people familiar with their thinking. Huh??? What the hell is that? John Boehner has been lobbying for the marijuana industry. It would be unwise for him to create controversy by having a former Republican Speaker of the House endorse a democrat. Paul Ryan will probably run for statewide office in WI either as Governor or Senate in the future. You are probably not going to see an endorsement of Biden from him.
Jeb's son George P Bush supports President Trump and has higher aspirations. I doubt his father would pull the rug out from him. Lastly, former President Bush despite his recent article wouldn't endorse Biden. That would be direct criticism of a successor which he has promised not to do.
The AG William Barr has been close to the Bush Family since he worked for George H.W. Bush in the CIA in the 70s. He held various positions in the Reagan Bush Admin. He was AG during the first Bush Administration. The reason why he is AG is bc of being recommended by George H.W. I don't see the Bush Family undermining his credibility especially while he is being attacked for the investigation into how the Russia hoax started.
The Alumni PAC made up of the second Bush Administration alumni lists one person that I have never heard of. Karl Rove who was not a supporter of Trump initially now actively raises money for RNC/Senate. Rove is using his PAC to elect a Republican House and keep the senate. The Alumni Pac is not real.
The Biden Campaign strategy is a return to normality. The race riots and coronavirus continued shutdown is to create a perception the country is out of control under Trump. The George Will columns, this article, Gen. Mattis and Gen. Kelly's comments are all to reinforce that narrative. This is the media trying to shape public opinion and it is dishonest.