AUGUST 10, 2020 BY RAY BELL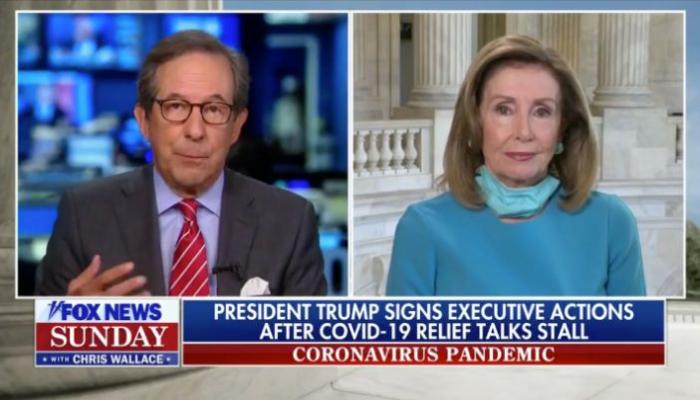 I watched Nancy Pelosi being interviewed by Chris Wallace. Trump's executive order to provide coronavirus relief to workers put Pelosi in a position to defend not getting a deal with the Republicans. She was struggling to do so and sounded like a babbling idiot.
Once again Trump has outsmarted Pelosi and she doesn't realize the electoral doom that is ahead for her and the Democrats. I think Trump will win the popular vote with gains in black & Latino communities. The Republicans will keep the Senate and gain a seat and take back the House.
All of these polls showing Biden winning double digits, majority support of protests and shutting down the economy, has been predicated on polls overly sampling Democrats and under-sampling Republicans.
Everything the Democrats have done to Trump, from trying to separate his base from him to attempting to kill the enthusiasm, has failed. The Democrats have not been able to do that and instead the Democrats have gone further radical.
The Democrats have created an alternative reality where Trump's base has deserted him and where the majority of this country supports the radical agenda of the Democrats. This is setting themselves up for an epic defeat in November. With a defeat so big and with Trump's support from minorities, Democrats won't be able to use foreign influence or racism to explain their loss.
This will leave them to face the reality that nobody wants their agenda. Three things they will also face going forward after November. First, blue state governors and mayors will be held accountable for their lockdowns, race riots, and budgets that won't be bailed out by the Feds.
Second, Trump will replace Ginsburg in his second term. Third, the exposure of the Obama DOJ/Intel corruption and those involved being held accountable.
There will be a lot of retirements of the older Democrats like Pelosi who won't want to spend the end of their career in the minority and are too old to stage a comeback. The radical progressive left will now own the party. The progressive wing will site their primary victories over traditional Democrats to justify doubling down on radical policies and extreme tactics.
Faced with being out of power for decades they will be violent. The Republican Party if it brands itself as the America First Party defending traditional America the Democrats will be the minority party for generations.