JULY 12, 2022 BY ARCH KENNEDY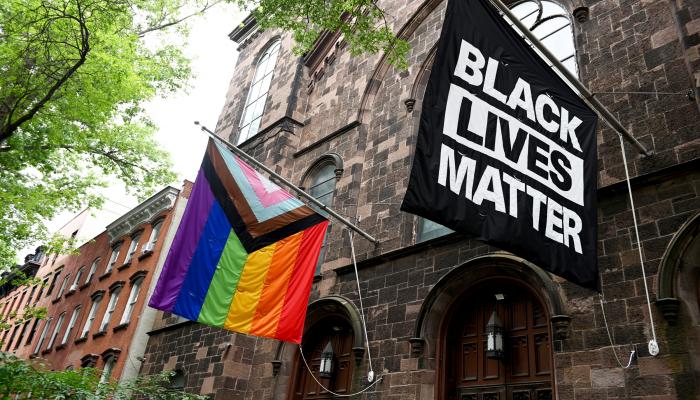 The term "woke" is being used a lot in our culture today. And, depending on who is using it and the context, it can be used as a positive term or an insult. Merriam-Webster defines "woke" as being  "aware of and actively attentive to important facts and issues (especially issues of racial and social justice)".
In Atlanta and many big cities, it is quite common to see LGBTQ flags or Black Lives Matter flags in front of churches. This could not be more wrong and here is why. In the New Testament, Paul writes many letters to fellow believers in Christ. In them, he states the purpose of the church and that it should be Christ-centered, not self-centered. The church is to profess Christ as our Savior. In other words, it's all about Jesus. Paul believed that all Christians are connected and make up the body of Christ. Having an LGBTQ agenda or Black Lives Matter agenda is "exclusionary". Christians are not called to tell other brothers and sisters in Christ that they are not Christian. If a Christian tries to exclude another, it is the same as chopping off the limb of the body of Christ.
Here is another way to look at it. When your life is Christ-centered, you don't need a political movement for human rights. Because as a follower of Christ, we are obligated to follow God's rules! Paul explains in his letters to the churches what it means to follow Christ and it means to love one another and treat all fellow believers with kindness and love. Faith without works is dead as James 2:14-26 states:
14 What does it profit, my brethren, if someone says he has faith but does not have works? Can faith save him? 15 If a brother or sister is naked and destitute of daily food, 16 and one of you says to them, "Depart in peace, be warmed and filled," but you do not give them the things which are needed for the body, what does it profit? 17 Thus also faith by itself, if it does not have works, is dead.
18 But someone will say, "You have faith, and I have works." Show me your faith without your works, and I will show you my faith by my works. 19 You believe that there is one God. You do well. Even the demons believe—and tremble! 20 But do you want to know, O foolish man, that faith without works is dead? 21 Was not Abraham our father justified by works when he offered Isaac his son on the altar? 22 Do you see that faith was working together with his works, and by works, faith was made perfect? 23 And the Scripture was fulfilled which says, "Abraham believed God, and it was accounted to him for righteousness." And he was called the friend of God. 24 You see then that a man is justified by works, and not by faith only.
25 Likewise, was not Rahab the harlot also justified by works when she received the messengers and sent them out another way?
26 For as the body without the spirit is dead, so faith without works is dead also.
With this "wokeism" many mainline American churches continue to decline in membership with division over social issues. Gallup polling shows that only 25% of American Christians see the Bible as the actual word of God. What is also shocking about the recent polling is that 16% of those claiming to be Christian say the Bible is a book of fables. Not good!
So, how did we get to these record low numbers? We are a headline nation today. Many of us just read the headlines daily in our jam-packed days. We are bombarded with tons of information every second of the day. But, if we get back to actually reading Scripture on a daily basis, we will have all of the answers to life right there. Before I begin my daily reading of the Bible, I ask for God's wisdom in interpreting His word exactly how He intends it. If everyone does this, no one will feel the need to segregate by sexuality or color of skin. We can bring the church back to a place of "inclusion" rather than "exclusion".